Name
Asher Millstone
Origin
United States of America
Hooker Mom turned out to be Bomb Mom. I freaking love this job.
It'd be a pretty lame sleepover without pizza bites.
Asher Millstone is one of the main characters of How to Get Away with Murder. He was born into a world of Ivy League educations and country club memberships. To his classmates, he's an entitled, uber-prepared know-it-all, but Annalise knows something about Asher that will surprise the rest of the students – and end up making him a pivotal member of the firm.
Biography
Early Life
TBA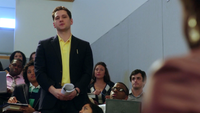 Asher takes part in the classes first assignment. ("Pilot")
Asher first meets his fellow students and professor, Annalise Keating on his first day of Law School. He answers the questions thrown at him by Annalise about a case of attempted, giving a good first impression. Annalise then confesses that the case is one she's currently working on and takes the students, including Asher, to listen to Gina Sadowski, the defendant, tell her story. As Gina talks about becoming her boss' mistress, Asher snidely comments to Laurel Castillo that he thinks she's always been "that girl". The class is then tasked to come up with the best defense for the case. Asher presents his idea and manages to get through to the next round, attending court sessions. Over the next few days, Asher attends the court sessions and witnesses the impressive rivalry between Connor Walsh and Michaela Pratt as they both give important evidence in favor of Gina. When Asher questions Connor on how he got his evidence, he is simply told he doesn't kiss and tell. That night Asher attends a formal party at which he meets Sam Keating, Annalise's husband. Asher continues to attend the court sessions and eventually witnesses Annalise come out victorious after getting help from Nate Lahey, her detective boyfriend. Asher is then crowned one of the winners of the competition and granted a position at Annalise's law firm. ("Pilot")
Asher is questioned on Sam Keatings death Bonnie tells him that she killed Sam to protect the real person who killed Sam Bonnie later finds out that Asher let a girl get raped at a party when he was younger, later on Asher's father kills himself he then approaches Sinclair who tells Asher that his father deserved death in anger Asher hits Sinclair with his car Bonnie later helps him cover up the murder.
TBA
Appearances
Gallery
This is a gallery of photographic stills released to promote the character.
Ad blocker interference detected!
Wikia is a free-to-use site that makes money from advertising. We have a modified experience for viewers using ad blockers

Wikia is not accessible if you've made further modifications. Remove the custom ad blocker rule(s) and the page will load as expected.